Churchill's State Funeral
View gallery
Margaret Thatcher's funeral next Wednesday will be the most lavish send-off for a politician in almost nearly 50 years.
The Queen and Duke of Edinburgh will be among the mourners at Baroness Thatcher's ceremonial funeral at London's St Paul's cathedral.
The funeral - expected to cost up to ?8million - will be similar in stature to those held for Princess Diana and the Queen Mother.
However, it ISN'T being described as a full state funeral - an honour not afforded to any politician since Sir Winston Churchill in 1965.
Then, thousands of people lined the streets as the World War II leader's coffin was taken in a procession from Westminster Hall to St Paul's cathedral.
The Queen and other members of the royal family, the Prime Minister, Harold Wilson, and dignitaries of 112 countries attended the service.
Fittingly for a war hero, there was a 19-gun salute and an RAF fly-past and his coffin was transported by Royal Navy boat and then a train called Winston Churchill.
At many football matches a two-minute silence was observed while the Premier League and Football League have ruled out any tributes for Baroness Thatcher.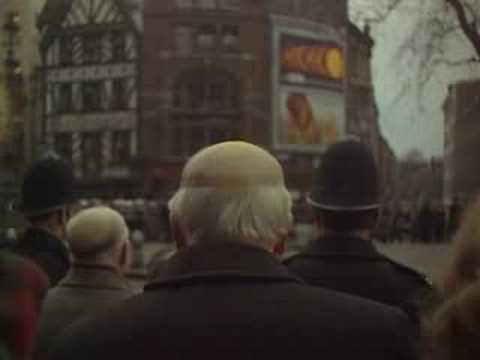 For her funeral, hundreds of foreign dignitaries will be invited alongside current and former Prime Ministers David Cameron, Sir John Major, Tony Blair and Gordon Brown.
Dozens of streets in Central London will be closed in the hours running up to the ceremony, with hundreds of servicemen lining the route.
A Downing Street spokesman said the funeral will begin at Westminster at the Chapel of St Mary Undercroft – known as The Crypt.
Thatcher's coffin will be taken by a hearse to the RAF Chapel, the church of St Clement Danes, in the Strand.
From there her coffin will be transferred to a gun carriage drawn by the King's Troop Royal Artillery.
The impressive cortege will then proceed down the Strand, through Aldwych, then along the entire length of Fleet Street before rising up Ludgate Hill to the majestic St Paul's Cathedral, which was chosen at her request.
A guard of Chelsea Pensioners, dressed in their traditional red tunics, will line the steps of St Paul's as her coffin is carried in by members of the armed forces.
Thatcher's love of Elgar's classical music – especially Pomp and Circumstance – is also expected to be reflected in the service.
One Whitehall official said: "To the man in the street it will look like a state funeral."
Should Margaret Thatcher have a ceremonial funeral?
8000+ VOTES SO FAR